The Digital Health Guide is a joint venture between HealthCare Software and Semantic Consulting. The platform helps clinicians safely and appropriately recommend mobile health apps to their patients
The platform evolved from a digital strategy Tim Blake's company Semantic Consulting was helping Primary Health Tasmania with in 2016. 
Tim Blake says, "The idea came out of consulting work I was doing with general practitioners. Many were struggling with the same problem. They said, 'We have patients coming into our practice saying, Doctor, I'm using this health app. What do you think? Is it any good?' 
"Clinicians weren't sure how to determine which apps were safe and which were unhelpful, or even dangerous. They were hoping to get a certified list of mobile health apps they could be confident in recommending."
Blake admits that when clinics first started asking his team for a list of health apps they could rely on, he thought it would be impossible.
"We thought about it for a short while and said, 'Well, not really.' Because you know, certification is arguably a national regulatory role. And you probably want more than a list because this space is changing on an almost daily basis."
Despite the challenges, Blake and his team began to look at ways of making the platform a possibility. 
Three years later, the Digital Health Guide has grown to become a trusted authority on providing unbiased information on digital health apps to clinicians across Australia. 
Today more than 7,000+ clinicians use the platform.
How does the Digital Health Guide work?
When I ask Blake how exactly the Digital Health Guide works, he says, "We're trying to provide a pragmatic service that isn't perfect, but really helps in the current vacuum that we have—because there are around 300,000 health apps in the app store list, which is clearly just out of control."
"The vast majority of these apps are pretty benign, but not that helpful. Some are amazing. But others—a small number, but a number that's not small enough—are downright dangerous."
The Digital Health Guide addresses this challenge by listing relevant health apps by the medical conditions they are aimed to address. 
For instance, the screenshot (below) taken from the Digital Health Guide dashboard shows some of the apps that appear when 'anxiety' is selected from the conditions menu on the left.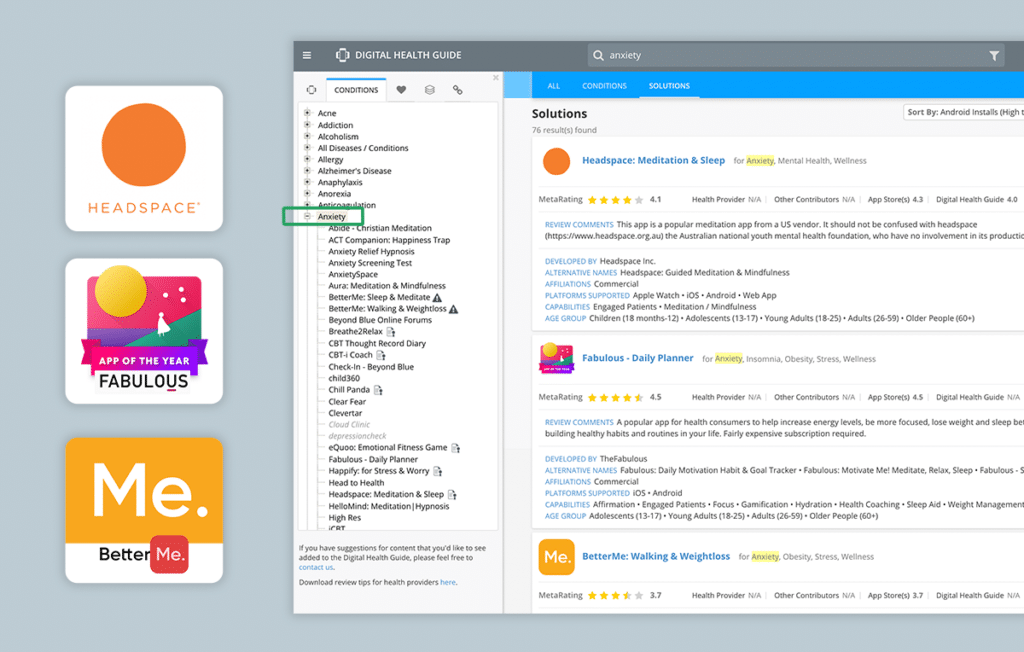 Above: A screenshot of the Digital Health Guide's dashboard showing the relevant health apps when 'anxiety' is selected from the side menu
Rather than being too directive, and placing an emphasis on rating apps, the Digital Health Guide places more emphasis on providing clinicians with all the information they need to make informed decisions themselves.
Blake explains,
"We don't see it as our job to make a strong value judgement on what is a good app and what is a bad app. The first role of the platform is to provide high quality information."
"So, who developed this app? What country do they come from? What type of organisation are they? How much does it cost? What do we know about how it was made and the kind of governance that was over it? How often is the app updated? Is there any professional endorsement by peak bodies or professional bodies? Is there any clinical evidence behind the app? Those kinds of things.
"What we haven't tried to do is collapse everything down into a single star rating. We actually think there are different perspectives and they are all legitimate and worth reporting on. 
"So we developed three perspectives: a patient perspective, a health provider perspective, and our own perspective. And then we have an average of all of the above.
"This is really important to us because these perspectives don't always align. I can give you an example from the NHS where there's an app that's clinically endorsed but patients hate it. Or there can be the opposite situation where patients love something but health providers hate it because they think it's dangerous.
"So we try not to see the apps as an objective right or wrong, but the catalyst for good quality conversations between health providers and their patients."
Above: A screenshot of the Digital Health Guide's review of 'Smiling Mind'. You can see the different types of ratings highlighted
The 3 use case scenarios for using the Digital Health Guide
Tim Blake, whose team built the Digital Health Guide, explains that there are 3 different use case scenarios for using the Digital Health Guide. 
"One is a patient comes in and says, 'I'm already using this app, what do you think? Is it any good?' So the doctor or allied health professional has the ability to look up an app by name," Blake says. 
"The second use case is that you have a patient that is either newly diagnosed with a condition, let's say they've just been diagnosed with 'anxiety'. Or they have an existing condition, but they express a new desire to have a digital resource to help them manage it. The Digital Health Guide can help them find a resource for that condition. 
"The third use case is health providers finding resources for themselves. So there are a bunch of really good apps for health professionals that might be clinical guidelines, clinical calculators, etc." 
How do I know the information is trustworthy?
When I ask Blake how clinicians know they can trust the information listed on the Digital Health Guide, he explains, "Remember that our main job is not to critique apps. We're providing information. Is that information correct? Yes. Are there mechanisms for correcting it when it's not? Yes. Are clinicians involved in helping us determine our evaluation methodology for apps? Yes, they are.
"Do I think a small private sector organisation is the only solution to this very complicated space? No, of course not. You know, we need government to step up and to decide what their role is going to be in regulating digital health tools. We've actually been loudly advocating for this for some time." 
How do I get access to the Digital Health Guide?
As mentioned at the beginning of this article, the Digital Health Guide spawned out of work Blake and his team were doing with Primary Health Tasmania.
Today, under a licensed agreement, subscriptions to the Digital Health Guide are offered for free to general practices serviced by 4 Australian PHNs: Primary Health Tasmania; Gippsland PHN; Sydney North PHN; and North Coast NSW PHN. 
Blake says general practices outside of these areas can also access the platform by purchasing a subscription. These subscriptions will soon be available via a payment gateway, which he says his team is just weeks away from deploying.
To gain access in the meantime Tim Blake says general practices and clinicians are free to contact him directly at [email protected].