''We're Benefiting From the Entire HotDoc Platform,' Berry Medical Centre
Berry Medical Centre is an 8 GP private practice in the rural town of Berry, NSW. The clinic was established as a solo GP practice back in 1995 by Dr Neil Donovan (above). Over the decades it has expanded to service the demands of the growing Berry township which has just over 3,000 residents.
Today Berry Medical Centre has 8 doctors, 3 nurses and 7 reception staff. 
Practice Manager Linda Anderson says, "We have a real team approach at our practice. We take a lot of pride in how we greet our patients and spend time with them. 
"At [the clinic] we all work together to deliver the best possible patient experience starting from our reception team through to our doctors, nurses, allied health and the local hospitals."
Practice Principal Dr Neil Donovan says the thing that first drew him to HotDoc was the seamlessness of the product. "When we opened our doors, we were one of the only practices with computer-based files. I'm not a technophile but I can see when technology is ready to be adopted. We have always been at the forefront of practical innovation, but, honestly, I only want to know enough to make it work. 
"HotDoc interfaces are nimble and elegant, they make a complex task very doable. [HotDoc] obviously listened to patients and doctors, and were so quick off the mark producing a seamless product," Dr Donovan says. 
Why HotDoc—online appointments to improve the patient experience
Practice Manager Linda Anderson says the initial thing that drew her to HotDoc was the ability to give patients access to online bookings.
"We wanted a flawless online booking system," Linda says.
"We wanted to free up the phone lines and give patients the option to see all appointments available and let them book 24/7."
"We get lots of comments on Facebook from patients that say HotDoc is a great platform to use and how easy it is to book online. They in particular commend the Recall and Reminders system."
In the last 30 days, Berry Medical Centre has received over 500 bookings through HotDoc with 29 new patient registration forms completed and 19 new patients joining the practice.
Receptionist Abbey, who Linda affectionately calls Berry Medical's HotDoc Hero, says the transition to HotDoc was smooth sailing.
"Every query we had, HotDoc were always one step ahead. It's like you had already run through every possible scenario."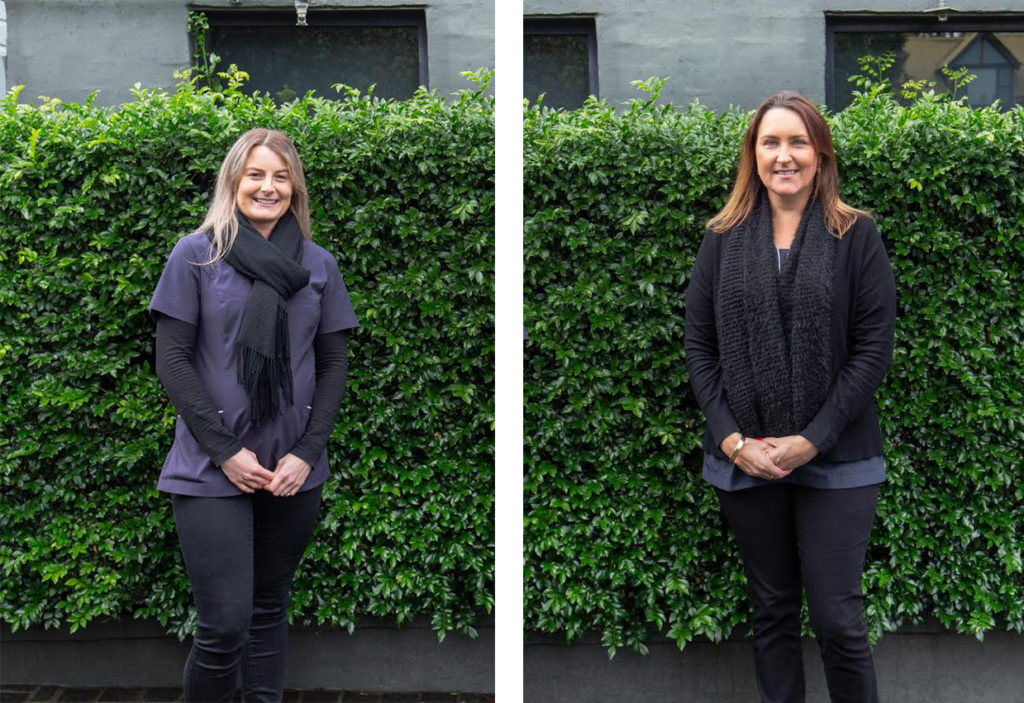 Pictured: Abbey, Receptionist (left) and Linda, Practice Manager (right)
Pictured: Receptionists Fiona (left) and Jodie (right) 
New patient forms—digital forms to save time
When I asked Linda which product the team liked the most she said New Patient Registration. "The [New Patient Registration] forms have been a game changer for our practice. Patients fill these forms in ahead of time, prior to their appointment, so when they arrive the stress of paperwork has been eliminated."
"The appointment flows more efficiently as all demographic and patient history have already been entered [prior to the appointment].
"The feedback we get from patients is that they are finding our [New Patient Registration] forms simple and easy to follow," Linda says.
Recalls—reducing costs and DNAs
Next Linda cites Recalls as the HotDoc product helping the clinic the most.
"Recalls are great. They reduce our DNAs and also the cost in postage. Our recalls are now sent via SMS and that means less letters need to be printed. Previously we would have been printing and posting 100 letters a week. We also love that we are reducing environmental impact."
"What we like best is the reassurance knowing that the patient has received their reminder or recall, and that it's documented in the patient EMR."
"Before when recalls were via phone or letter, we did not know if a patient actually listened to their voice message or read a letter. Now we know," Linda says.
Broadcast—preventative health outreach
Berry Medical Centre is also getting a lot of value out of Broadcast.
Linda says, "We've been using [Inform] Broadcast for clinical services like our Women's Wellness Clinic. I can pull a report of all female patients overdue for a cervical screening test, and I can send a bulk message inviting them to come to our Women's Wellness Clinic.
"Also during flu season we have sent  broadcasts to specific target groups such as patients with asthma, COPD, or Diabetes to inform them of the benefits of having a flu vaccination.
Linda shares a recent campaign success with Broadcast. "We conducted an MMR vaccine booster clinic. Over 1,000 patients were informed they were eligible for a free MMR vaccine. Thirty percent of people we messaged came in and were vaccinated."
In one Broadcast campaign…
"We also used Broadcast when COVID hit to let patients know we were offering video  telehealth. While our practice remained open, offering telehealth helped us avoid large numbers of patients coming into our practice during the pandemic."
Pictured: Dr Ingrid Buchner
Telehealth—easier for doctors and patients
When COVID-19 hit, Berry Medical Centre was one of the first clinics to start using HotDoc Telehealth. They are also one of the first clinics to use the video platform.
"In the beginning [before HotDoc] we trialed Skype, Zoom and FaceTime. With 8 different doctors and every patient wanting something different it was inconsistent. Using the HotDoc video platform, in conjunction with our software has made it much more streamlined."
Linda says, "We love how HotDoc Telehealth shows when the patient has joined the video appointment. It changes the patients appointment to yellow in our appointment book so the doctor knows the patient is ready and waiting for the consultation to begin.
"If a patient need assistance, Abbey will talk them through the process of joining a telehealth consultation. The simple steps from HotDoc has allowed for this process to run smoothly."
When I asked Linda why she thinks their doctors use video when many doctors don't, she says, "Our doctors feel video telehealth is a more valuable consultation for both doctor and patient. Doctors connect better with a patient if they can see them as this can provide visual cues. Patients can show the doctor any visible concerns they might have. Body language can be seen rather than just a voice. It's a better experience for the patient and the doctor."
Support—dedicated training and help
Linda also credits HotDoc's Support team for winning her favourable opinion of HotDoc.
"Cheri's [HotDoc Customer Success Manager] service has been exceptional. It doesn't matter how small or silly my question seems, Cheri is there to help and always understands what I am trying to ask.
"It is clear Cheri is passionate about what she does, as she always goes above and beyond to assist our practice in every aspect. [She] has even helped with our Google My Business posts, website and Facebook marketing. We are so grateful to have her as our first point of contact."